Principle & advantages of MULTICRACKER®
Highly efficient machines providing up to 80% energy saving
The MULTICRACKER® principle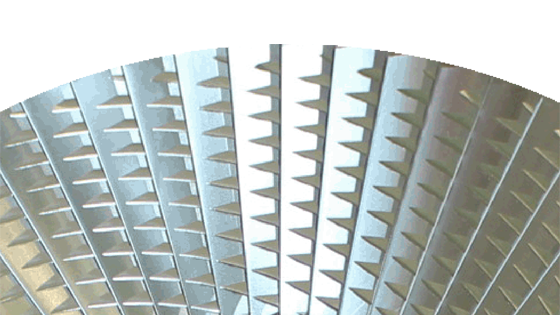 Sophisticated grinding unit
The outstanding characteristics of MULTICRACKER® are based on its innovative and patented grinding unit – the crackerunit with special crackerdisks

Housed in a clearly structurized and standardised machine frame. Idea, design and manufacturing "Made in Germany".

Patented crackerunit

The machine design and the patented crackerunit makes the MULTICRACKER® the perfect machine for your applications.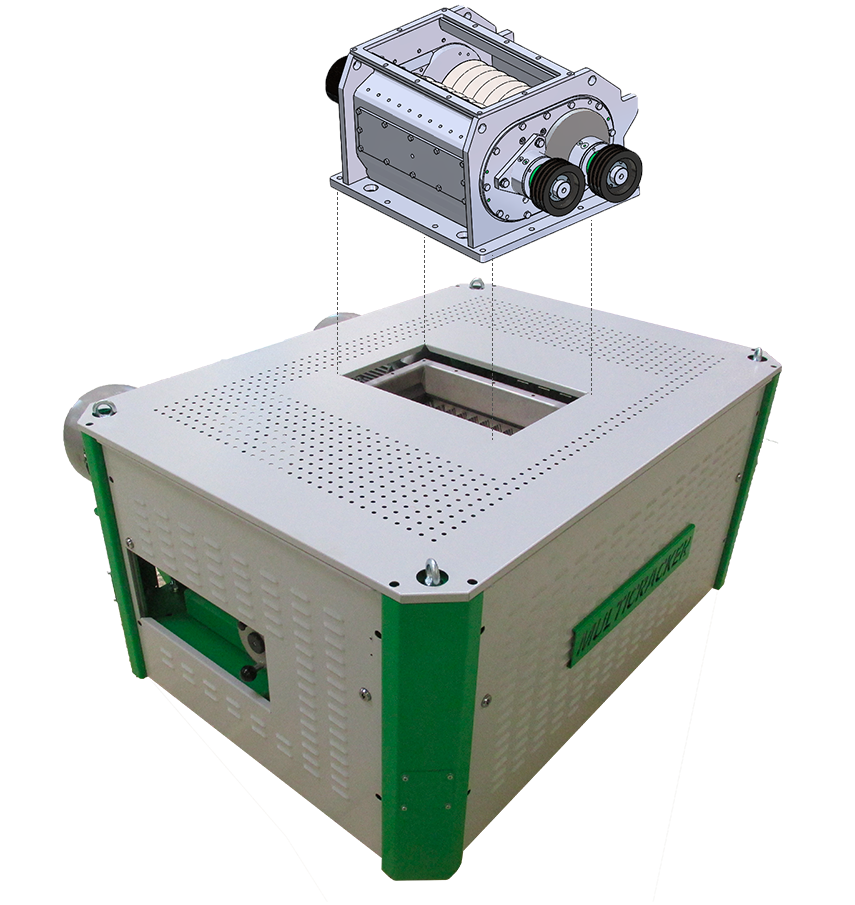 Crackerdiscs
The core of the MULTICRACKER® machines are the unique conical discs made of a special hard alloy that is highly wear resistant.
Cracker unit
The alignement of the conical crackerdiscs on the two shafts inside the crackerunit increases the length of the working gap and hence the capacity about factor three compared to a roller mill with the same dimensions.
Cracker shafts
The cracker shafts are mounted movable and spring loaded inside the crackerunit and allow hard impurities of the raw material through the machine without causing any serious damage.
Gap adjustment
The working gap of the MULTICRACKER® machines is continuously adjustable.
Drivetrain
The machines are driven with one or two motors. The power transmission to the crackerunit is done by v-belts.
Housing
The machines are delivered in coated sheet metal housings in the default colors green (RAL 6018) / light gry (RAL 7035). Individual colors and stainless steel options are available.
Input / Output flange
The machine consists of an input and an output flange for the mill material.
Machine base
The machine base are executed either as welded structure or the are made of high performance reinforced concrete in order to support operation with a minimum amount of vibration.
Your advantages
Highest energy efficiency – energy expenditure ~1 kW per ton - up to 80% energy saving compare to conventional grinding technologies
Cold cut - no material heating - provides gentle and efficient processing of valuable materials
Homogeneous grist, narrow grain size Distribution and less dust generation compare to conventional grinding technologies
Wet grinding and Clean-In-Place possible in water proof crackerunits
Wide range of applications with various crackerdisk profile
Dust proof Cracker Units provide ATEX/NEMA compliance
Small space requirement and weight combined with high throughput
Low wear-out costs – only 0,10 € per ton
Low aspiration demand – more energy/cost saving
PLC-intergrability into new or existing control systems
Best intake behaviour due to the tapered disks and their formation
Comparison MULTICRACKER® vs. roller mill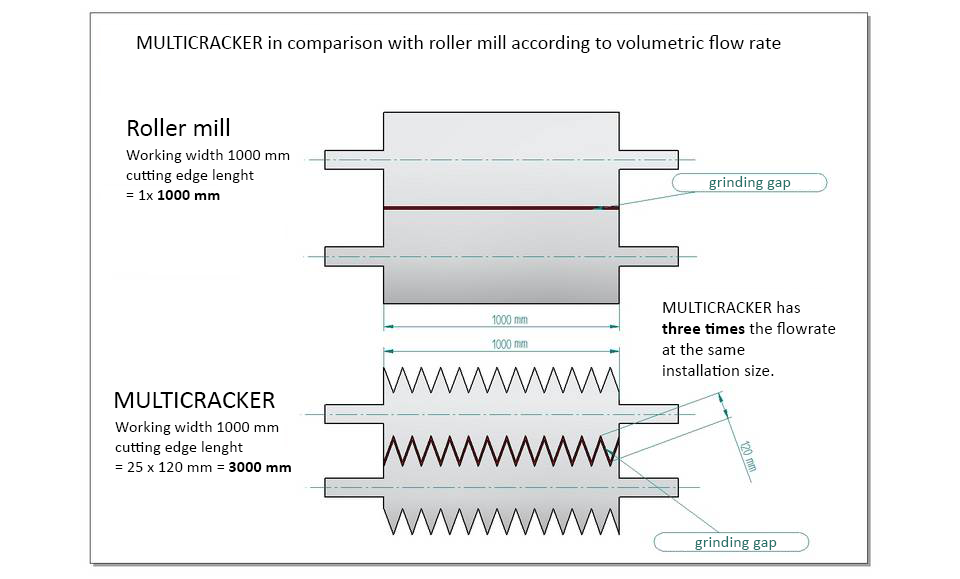 Award winning technology
Due to its innovative technology and unique advantages MULTICRACKER® was repeatetly awarded:
Winner Hessian Export Award 2013
"Invinite success in industrial crafts and trade"

Bavarian State Award 2007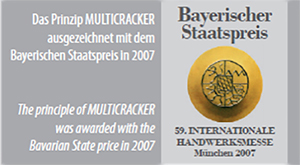 Small and medium-size business innovations award 2006